In a Nutshell
Despite not being internationally known, the Bet9ja sports betting site is the most renowned one in Nigeria, where it is established. It is respected by Nigerian sports gamblers for a variety of legit reasons. First of all, the coverage offered by the website is broad. Even though it focuses especially on football and, in particular, on the Premier League, it offers its customers a wide range of possibilities, encompassing more than 25 sports and markets.
As expected from a top bookmaker, the new Bet9ja site has a live gambling option that allows all bettors to place a wager while the match is unfolding. We will cover more about that in a later section of the article. Moreover, the new Bet9ja constantly holds new events and includes innovative features to make gambling even more fun and entertain customers in different ways. These include, of course, the casino feature available directly from the new website.
Clients have at their disposal a wide variety of payment options through which they can carry out their deposits or withdrawal operations, and everything is made even more interesting thanks to the sweet welcome bonus that awaits every new bettor.
Pros and Cons
Pros
Amount of markets. Bet9ja offers markets in more than 25 disciplines, including football, baseball, tennis, volleyball, and many more.
Numerous features, promotions, and contests. As we will see, on Bet9ja, you will never get bored as new features will always be available. The Casino is particularly on point.
Live betting. Always a nice option to have when it comes to placing wagers on sports. With this possibility, you have the opportunity to make things a bit more fun and entertaining as you bet as the game is unfolding in front of your eyes.
Cons
Limited availability. Although Bet9ja is not only available on Nigerian territories, internationally as well, in some areas and countries of the world, users will be denied access to their website, which is a shame: with all the cool features it has to offer, we hope the owners will think about expanding their reach and conquer more potential customers worldwide.
High betting margins. When gambling, a fundamental aspect to consider is margins: long story short, the higher margins are, the less profitable it is for a punter to bet. And Bet9ja has some pretty high ones, even though they are actually pretty standard for Nigerian bookies: about 9.36%.
Overall Rating
| | |
| --- | --- |
| Titles available | 5 / 5 |
| Odds | 3 / 5 |
| Esports markets | 4 / 5 |
| Bonuses and promotions | 4 / 5 |
| Customer service | 5 / 5 |
| Deposit and withdrawal options | 2 / 5 |
| Website interface | 5 / 5 |
| Overall | 4 / 5 |
About Bet9ja
Bet9ja is an online bookmaker that launched in September 2013 in Nigeria. They established a betting empire through the years, and now their commitment and dedication pays off: in 2020, they came out in Nigeria as the third most-visited website after google.com and youtube.com. If that wasn't enough, it is also the most visited local website in the country and on the top 500 most visited sites on the international level.
They offer a system of sports bets, bookmaking, and online casinos. They have been signing important sponsorship with prestigious organizations and leagues since their founding 8 years ago. They include the one with Nigerian football club Remo FC and with Nigeria's men football league Nigeria National League, which ended in 2019. Bet9ja is also the official sponsor of the Nigeria Women's Football League since 2015 and of the fourth season of Big Brother Naija. Finally, the betting company partnered with the Economic and Financial Crimes Commission in 2018 to conduct a marathon focused on fighting corruption.
Welcome Bonus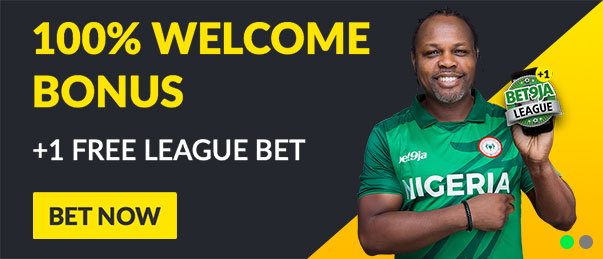 As soon as you visit the new Bet9ja website, you will be greeted by a nice welcome offer. As a bonus, if you sign up as a new customer and deposit using any of the online payment methods listed on the website (also listed in a later paragraph of our review), you will receive a 100% matched deposit of up to 100,000 NGN. The value is in Nigerian Naira and roughly corresponds to 214 EUR and 260 USD. For example, if you deposit N6000, you will get a bonus of N6000; whereas, if you deposit more than N100,000, the bonus will still be granted to you, but it will cap at N100,000.
In addition to such a bonus, whenever you deposit your first sum of money on the website, you will receive 1 Bet9ja League Free Bet. To learn more about these welcome promotions, we suggest you check out the dedicated webpage, where all the conditions and terms are listed in full. Also, as bonuses like these tend to change quickly over time, it is important that you keep yourself updated before registering so that you know exactly what to expect.
Location and Age Restriction
First of all, it is illegal to sign up on a betting platform without being of age, that is, 18 years old or older. Bet9ja isn't any different, and explicitly requires its users willing to register to be an adult, as clearly indicated in their Terms of Service. If, for whatever reason, you register without being at least 18 years old, then the company may rightfully terminate your account without further notice, refuse to payout the winnings you may have collected, and report the fact to the competent authorities.
Things are a bit more complicated about the location since no precise regulation is set on the Bet9ja website. The company states that if you happen to register and bet on their service in any country that is not Nigeria, then you must be aware of the regulations in force in your region as the site doesn't make any warranties in that regard. Therefore, we advise you to contact your local authorities or the Bet9ja customer support in order to be fully informed on your rights and possibilities regarding online betting.
Sign Up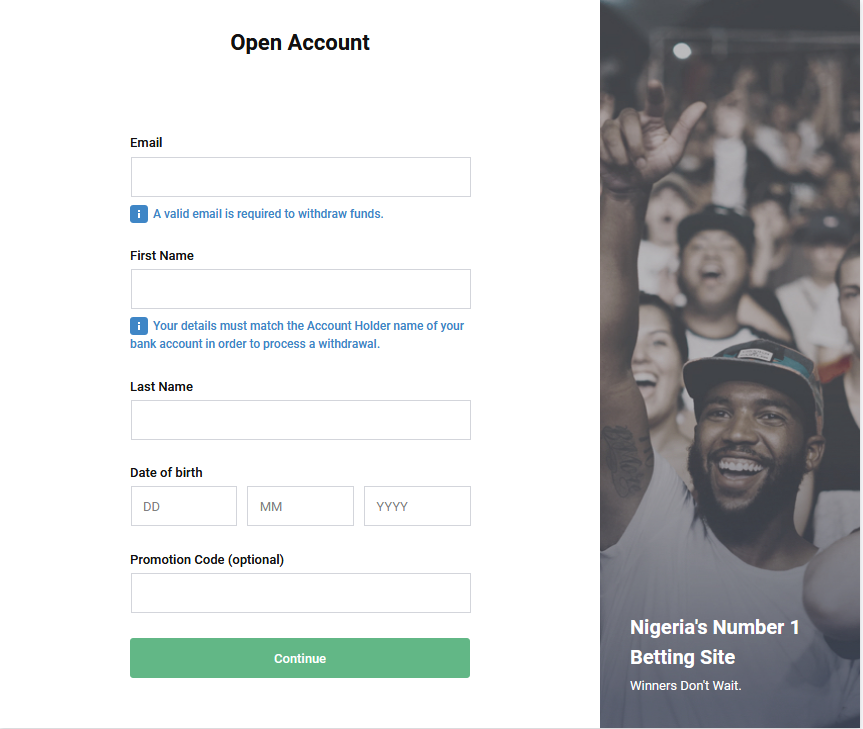 The registration process on Bet9ja is very simple and will take away only a small portion of your time. Check the new Bet9ja website and locate the "Register" button on the top right corner of the page. By clicking on it, you will be redirected to a page on which you will be asked to fill in a form. You have to indicate your email address, first and last name, date of birth, and, eventually, a promo code, if you have any. After that, simply follow the instructions that will appear on the screen, provide some other info, and then confirm your email and wait for your account to be enabled. In a few minutes, you'll be ready to start betting.
Once you have set up your account to access the website again, you won't have to go through the whole process, of course, but simply put in the username and password you have chosen while you were registering. If you ever forget your credentials, there is no need to worry as you'll be able to quickly recover them by clicking on "Forgotten Password".
Deposit and Withdrawal Methods
Being a top bookmaker, Bet9ja offers its customers a wide range of options when it comes to both withdrawing winnings and depositing on the site. However, as the website is located in Nigeria, bear in mind that no international cards are accepted: you may only use Nigerian debit cards, as explained in their FAQ section.
To deposit, you have many online possibilities, including bank deposit and ATM, and we are listing a few more of them below. The minimum amount of deposit possible with a debit card is 100 NGN, the maximum, 10,000 NGN. Using other systems, the max amount may greatly vary.
Interswitch (Mastercard, Visa, Verve)
Quickteller
GT Bank
Polaris Bank
OPAY
Zenith
FirstMonie
When it comes to withdrawals, options are not so varied: the only possible is bank transfers. They are always free, so you don't have to worry about any fee, and may take up to 24 hours, as well as being activated only during banking hours. To withdraw your winnings, all you have to do is go to your account section, click on "Withdraw" and, subsequently, on the bank icon, provide the details you are asked for and then wait for that sweet money to come in your way.
Promotions and Bonuses
Apart from the welcome bonus we already covered, Bet9ja has many surprises for you and constantly innovates its repertoire of promotions. The new Bet9ja site has a "Promotions" section you can check out and lists all the active bonuses available.
For example, the up to 170% multiple boost calculated on multiple bets in which there are five selections or more. It starts from 5% of the potential winning for 5 events, and it increases by 5% with each event added to the bet coupon, up to a limit of 170%. It only applies to those matches with odds equal to 1.20 or more.

The new Bet9ja mobile app has everything you ever wanted on a betting application. The gambling operator really did its best to provide the best mobile experience possible to their users. The app is available for both Android and iOS devices, so you can easily and quickly download it from both Play and App Store on phones and tablets.
You can find the direct link to the downloads simply from Bet9ja's website, at promo.bet9ja.com/mobileapps/. Therefore, if you would want to, you could also download the app on your PC by using a third-party program, such as Bluestacks, to open the .apk file. Before downloading, you are given a choice on what to actually download: either Bet9ja sportsbook, its casino, or both. To install it, or them, the process is very simple.
Go to your device's settings and, in Security, tick "Download from Unknown Resources".
Click on the download buttons you find on the web page linked above.
Go to your Files and, in the "Downloads" folder, click on the Bet9ja .apk file to complete the installation.
What can you do with these apps that take up your phone's memory, you ask? Well, a lot, so it's worth the space. The app allows you to bet anywhere you like, whenever you like, from the comfort of your palm. You can even spectate matches and take advantage of the live betting option you would usually enjoy from your PC. Controlling your personal account, all your payments, deposits, withdrawals, and your whole history at any time is also possible, as well as receiving bonuses. Last but not least, not only can you bet live and follow your favorite matches, but you also have the possibility to enjoy some fun casino games to spend the time and get some winnings, all through the dedicated app.
Bet9ja New Mobile Site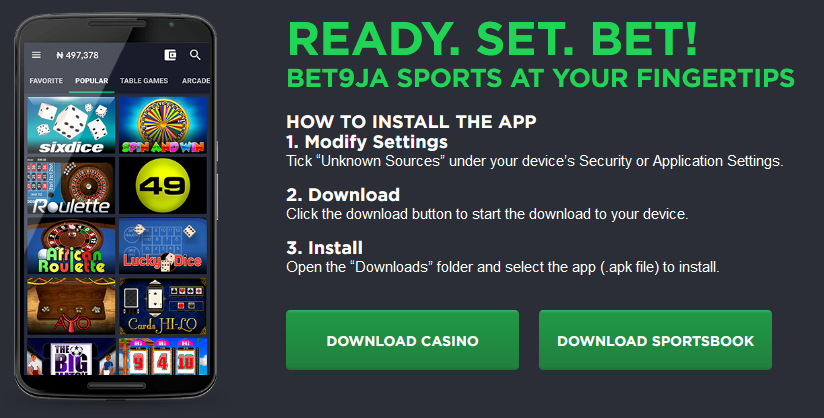 Not only a great mobile app, but bet9ja.com new mobile site is also available for all users to navigate through. You can find it at mobile.bet9ja.com/Mobile and works well on all mobile browsers currently available on phones, tablets, and other devices. It is the perfect solution if you don't want to, or can't, download the apps but are at the same time unable, or find it difficult, to access the betting website through your PC.
Simply grab your mobile device and open the link, you'll be redirected to all the features and options you see on the computer, but on your mobile instead.
Sports Games Offered
As we previously anticipated, Bet9ja offers a huge variety of sports markets. Here are some of the more than 25 sports titles you'll be able to bet on.
Soccer
Tennis
Basketball
American Football
Baseball
Handball
Rugby
Volleyball
Ice Hockey
Cricket
In addition to sports, Bet9ja amplified its range and now includes also an interesting number of esports markets, among which the most popular ones—CSGO, Dota 2, League of Legends—as well as the newest, such as Rocket League.
Privacy and Security
The first test a legit bookmaker has to go through is time. Bet9ja has definitely passed the test, operating for now more than seven years, getting better with time, and engaging in more prestigious sponsorships and collaborations.
The website takes its customer's privacy and security very seriously. First of all, it is officially licensed by the Lagos State Lotteries Board (LSLB). To ensure the best betting conditions, the computer system and data are protected using Dell servers and Fortinet Firewall and feature a Thawte SSL encryption certificate.
Customer Support
Customer support from Bet9ja is top-notch. The betting operator offers you all kinds of customer services to assist you with any query you might have. There are several ways you can get in contact with them.
You may send them a message by filling in a form. They will get in contact with you in generally no more than 2 days. Another way is to directly call the call center (numbers and office hours are listed on the website). Alternatively, what most pleased us was that they have a specific Twitter account for helping users out with any problem. The account is @Bet9jaHelp, and they will answer you quite quickly.
Conclusion
After thoroughly testing the bookmaker, our final verdict is highly positive in all regards: certainly, Bet9ja positions itself as one of the best sports bookies in the world. The amount of features, promotions, bonuses it offers is incredible, and they are always looking to improve their services. With a wide range of markets, many possibilities for your bets, casino games, two apps, great customer support, and much more, Bet9ja is all bettors' dream.
You can find some other overeviews of popular sports bookmakers at https://meinewetten24.de/
FAQ
Is Bet9ja Legit?
Yes, the betting website is officially licensed by the Lagos State Lotteries Board, has been operating for many years and ticks all the boxes for being considered a 100% legit and serious bookmaker.
What Is Live Betting?
It is an exciting feature, offered by Bet9ja, which allows you to place your wager on an ongoing match. To reflect this, odds are dynamic constantly changing in accordance to the evolution of the game.
Does Bet9ja Have an App?
Not only one, but two! The first dedicated to sports gambling, the other to casino games. Both are available on both Android and iOS devices, and you can download them follow the link you find on the official website.