What Is Zoom Prediction on Bet9ja?
Bet9ja is one of the most successful sports bookmakers in Africa and, little by little, well-known globally. It has been implementing new and innovative promotions and features to make the betting experience on its website as fun and entertaining as possible through the years.
One of those features is the so-called "Zoom Soccer". The way it works is just like real soccer, with markets, team names, and leagues, only, virtually. Similar to virtual football, as the names would suggest, the main difference lies precisely in such a sense of closeness to what real soccer is.
In fact, the same leagues you experience in real life are represented on Bet9ja Zoom Soccer. If you turn on the TV, you have the Bundesliga (Germany), Ligue 1 (France), Premier League (United Kingdom), La Liga (Spain), Primeira Liga (Portugal), Serie A (Italy), Eredivisie (the Netherlands). You find the same names on Zoom, just a bit modified: Bundes-Zoom, Ligue 1-Zoom, Premier-Zoom, Liga-Zoom, Primeira-Zoom, SerieA-Zoom, Eredivisie-Zoom. Easy, right?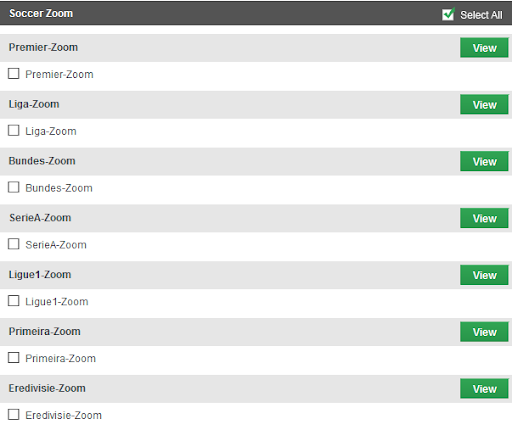 The same goes for teams. If in real life we know Manchester United, Real Madrid, Barcelona, Bayern Munich, PSG, and Juventus, well, you already know the trick: on Zoom Soccer, we have Z.Manchester United, Z.Real Madrid, Z.Barcelona, Z.Bayern Munich, Z.PSG and Z.Juventus.
Betting on Bet9ja Zoom Soccer
Matches on Zoom last as much as real-life matches, and punters have the possibility to place their bets on now five markets:
1X2
Double chance
GG/NG
Correct Scores
Over/Under
Since matches occur live, you have the possibility to follow them as they are happening thanks to the Bet9ja platform, which allows you to place live bets and check out matches in real-time. What's even more fun is that it, quite literally, never stops. Real football can't tangibly make more matches in one day possible, but on Zoom Soccer, we are in a virtual world where everything is achievable. Therefore, you potentially have matches 24/7 on which to place your best bets. And how can you do so? By having the best predictions, which is the focus of our article.
How to Bet on Bet9ja Zoom Soccer
Before speaking of predictions, if you want to start placing some bets on Zoom Soccer and making some predictions and comparing them, you have to go to the Bet9ja website first. If you don't have an account already, you can quickly create one through the "Register" button at the top right corner of the page. If you already do have one, simply enter your credentials and log in. Afterward, click on the "Soccer Zoom" button to be redirected to the page dedicated to it.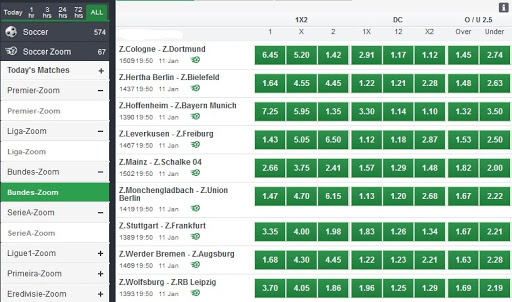 You now find yourself with the whole of current leagues and ongoing matches in each league, as well as the odds for those matches and the markets available. In this case, you have three markets: 1X2, DC, and O / U 2.5.
In 1X2, you have to predict the outcome of the match in 90 minutes. The bet offers three possible outcomes: 1 (home team wins the match); X (teams draw), 2 (the other team wins the match).
In DC, you have to predict the outcome of the whole match. There are 3 possible outcomes: 1X (at the end of the match the home team wins or draws), X2 (at the end of the match the other team wins or draws), 12 (at the end of the match the home team wins or the other team wins).
Finally, in O / U 2.5, you have to predict if the total number of goals scored during the entire match will be over or under the spread indicated.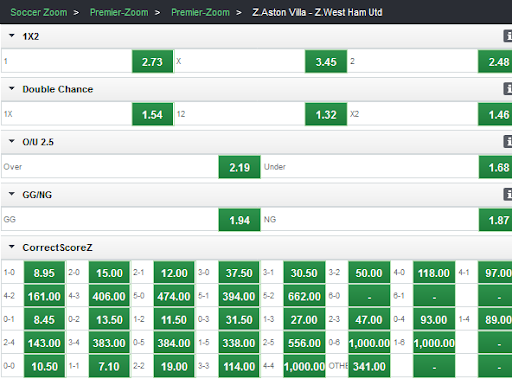 Bet9ja Zoom Soccer Prediction
Zoom Bet9ja prediction takes some time to get good at. Before presenting our personal Bet9ja prediction, here are a few tips for you to get good at this game. We advise you to learn first and then implement your knowledge at your best. That is, constantly check the odds, how matches end up playing out, check veteran punters and their wages, etc., so that today you know precisely what is the best Bet9ja prediction tomorrow.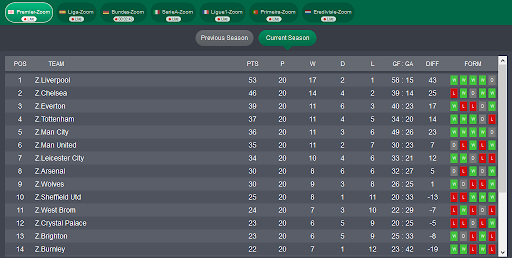 You have several tools to help you in that, for example, Bet9ja's dedicated page Zoom Live Soccer. Here you can find statistics, current and past matches, tables, the bet9ja zoom livescore, and general overviews, which might be helpful in making the best out of your bets. Having said that, here is our bet9ja prediction for today.
Premier League-Zoom
| | | |
| --- | --- | --- |
| Team home | Team away | Predicted winner |
| Z.Arsenal | Z.Newcastle | HOME |
| Z.Aston Villa | Z. West Ham Utd | AWAY |
| Z.Brighton | Z.Burnley | HOME |
| Z.Chelsea | Z.Leicester City | HOME |
La Liga-Zoom
| | | |
| --- | --- | --- |
| Team home | Team away | Predicted winner |
| Z.Atlético Madrid | Z.Athletic Bilbao | HOME |
| Z.Getafe | Z.Barcelona | AWAY |
| Z.Granada | Z.Villarreal | HOME |
| Z.Huesca | Z.Cadiz | HOME |
Bundesliga-Zoom
| | | |
| --- | --- | --- |
| Team home | Team away | Predicted winner |
| Z.Cologne | Z.Dortmund | AWAY |
| Z.Hertha Berlin | Z.Biefeld | HOME |
| Z.Hoffenheim | Z.Bayern Munich | AWAY |
| Z.Leverkusen | Z.Freiburg | HOME |
SerieA-Zoom
| | | |
| --- | --- | --- |
| Team home | Team away | Predicted winner |
| Z.Atalanta | Z.Parma | HOME |
| Z.Benevento | Z.Milan | AWAY |
| Z.Bologna | Z.Fiorentina | HOME |
| Z.Cagliari | Z.Roma | AWAY |
Ligue1-Zoom
| | | |
| --- | --- | --- |
| Team home | Team away | Predicted winner |
| Z.Dijon | Z.Lorient | HOME |
| Z.Lens | Z.Nimes | HOME |
| Z.Lyon | Z.Angers | HOME |
| Z.Marseille | Z.Reims | HOME |
Primeira Liga-Zoom
| | | |
| --- | --- | --- |
| Team home | Team away | Predicted winner |
| Z.Belenenses | Z.FC Porto | AWAY |
| Z.Benefica | Z.Boavista | HOME |
| Z.CD Nacional | Z.Gil Vicente | HOME |
| Z.Farense | Z.Tondela | HOME |
Eredivisie-Zoom
| | | |
| --- | --- | --- |
| Team home | Team away | Predicted winner |
| Z.Ajax | Z.Willem II | HOME |
| Z.Den Haag | Z.Waalwijk | HOME |
| Z.Emmen | Z.Vitesse | HOME |
| Z.Feyenoord | Z.Venlo | HOME |